---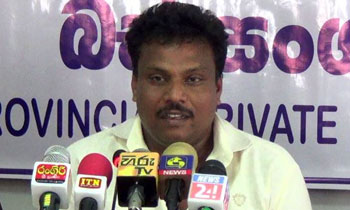 The Committee appointed by President Maithripala Sirisena on the Rs.25,000 fine for seven traffic in its report stated that the fines should been increased to a total of up to 5,000 per cent, Inter Provincial Private Bus Association (IPPBA) President Sarath Vijitha Kumara said today.
He told the media that if the committee recommendations were adopted by the Government, all the private bus associations, including other transport services would resort to a countrywide work stoppage like on December 2 last year.
"We will not allow even an increase Rs.100 without discussions with the transport sector stakeholders. The report has recommended an increase of up to 5,000 per cent with the minimum fine of Rs.20 being increased to Rs.1000," Mr. Kumara said. "The Rs.25,000 fine has been increased to Rs.30,000 and could go up to Rs.150,000 including a jail term of up to ten years if the Court decides. The Government has not thought of the monthly or the daily income of a driver."
He said if a driver was sentenced to jail for a minimum of three months his family would be deprived of any income.
"The Government has not considered the people but is more concerned about revenue generated to the Treasury. According to the recommendation, fines will be increased in percentages of 500, 1000, 1,500 and 5,000. The committee has not consulted any one nor has it done any preliminary investigation on Government taxes or the income of the people concerned," Mr. Kumara said. "Fines should be increased in a systematic manner. For more than 15 years the fines had not been adjusted. It is fare to impose fines if the Government provided suitable infrastructure facilities on roads as well. Therefore the committee recommendation report on fines for those seven traffic offences should be rejected." (Chaturanga Pradeep)