---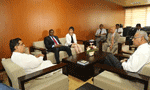 International Civil Aviation Organization (ICAO) Chairman Olumuyiwa Barnard Aliu yesterday assured that they were ready to provide proposals to convert the Mahinda Rajapaksa International Airport (MRIA) in Mattala into a lucrative second airport in Sri Lanka.
He expressed these views after he called on Civil Aviation and Transport Minister Nimal Siripala De Silva at the ministry on Friday.
"A country like Sri Lanka needs a second airport. I inspected the MRIA and it could be developed in a lucrative manner. We are ready to provide proposals in this regard," he said
A ministry statement had quoted Mr. Aliu as having said that Sri Lankan Aviation service was of higher standard when compared with other South Asian countries with regard to service standards.
"Sri Lankan aviation services are conducted successfully according to international civil aviation agreements," he added.
Meanwhile, the minister said the Government was in the process of receiving proposals from both local and international investors to revamp the MRIA and that several discussions were continuing on this matter.