---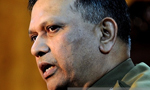 Amidst the intensifying competition for the post of IGP, outgoing Police Chief N.K. Illangakoon yesterday said that he had never gone behind others asking for the IGP post.
He said in his 34 years in service, even when he was holding second position in the Police, had never gone after promotions or benefits and that those things came to him at the right time as he worked according to his conscience.
"Even when I was the second in command of the police force, holding the rank of Senior DIG Administration, I never expected to become the IGP one day. Because of this quality, I have never been sidelined within the Department," he said at an event held at the Criminal Record Division Auditorium.
He said that he had no other expectations throughout his career except for carrying out his duties according to his heart.