---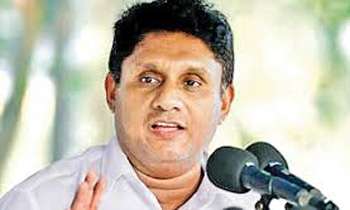 UNP Deputy Leader Sajith Premadasa yesterday said he is ready to play a leading role in ensuring democracy for the country.
Mr. Premadasa, speaking during a protest rally organized by the UNP in Colombo last evening, said he was ready to sacrifice his life for democracy. "We are ready to play a leading role in ensuring democracy and rule of law in this country. We will do that with the blessing of our party and the working committee of UNP," he said.
"Some ask me as to whom I am. I would like to state here that I am a person who stands for democracy and decency," he said and added, "There is a smear campaign brought against me where false stories about me are sent to the media. Please don't get misled. Don't believe every story circulated through media about me. Only believe the statements I issue with my signature and picture," he said.
Mr. Premadasa also challenged the newly appointed government to allow a vote to take place in Parliament to determine whether it has the majority or not.
UNP General Secretary Akila Viraj Kariyawasam requested the people's support to take over and safeguard important state institutions if the need arises.
UNP Spokesman and MP Harin Fernando again tendered an apology to those present for asking to them to vote for the incumbent President at the last presidential election. (Yohan Perera)
Video by Damith