---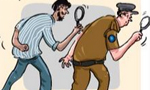 A man who volunteered to help the police to conduct investigations of a burglary in Kotiyakumbura was taken into custody on suspicion and questioned to find that he was responsible for the incident.
Police said the suspect had stolen jewellery and a tab (tablet computer) valued more than Rs.320,000.
When the police arrived at the scene and initiated investigations the young man had also joined them and offered to help the police. However, the villagers who suspected him requested the officials to question him.
During investigations the police recovered a part of the jewellery that had been pawned. A police team under OIC Crime Branch IP Kariyawasam conducted investigations.(Rohan Kumara – Kegalle)