---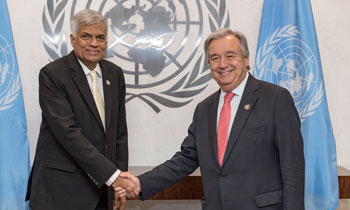 UN Secretary General Antonio Guterres has assured that the United Nations office in Sri Lanka stands ready to support the country when implementing programmes to achieve reconciliation and in the process of making Constitutional reforms.
The Secretary General has conveyed this to Prime Minister Ranil Wickremesinghe who called on Mr. Guterres at the United Nations Head Quarters in New York on Monday.
A statement issued by the Prime Minister's Office said the Secretary General has also mentioned that it was the hope of the United Nations to see Sri Lanka's success in its endeavours.
Mr. Guterres who warmly welcomed Prime Minister Wickremesinghe, appreciated his presence at the Historic Ocean Conference and recalled the close relationship between Sri Lanka and Portugal.
The Secretary General also mentioned his several visits to the Island as the High Commissioner for Refugees.
Mr. Wickremesinghe acknowledging the pleasantries extended to him, said in reply, that he is committed towards achieving national reconciliation through finding the truth, administration of Justice, providing compensation and acting responsibly to avoid a recurrence.