---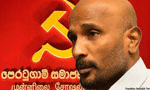 Kumar Gunaratnam - the controversial political activist holding an Australian citizenship - who was released yesterday after completing his prison term has been granted a two-month visa to submit his application for a citizenship in Sri Lankan, the Daily Mirror learns.
The Department of Immigration and Emigration yesterday issued a visa for two months for Gunaratnam's Australian Passport bearing the name Noel Mudalige to remain in the country until February 2, 2017, immigration sources said.
The department received a visa application from the members of the Frontline Socialist Party on Thursday following the revelation made by Internal Affairs Minister S B Navinna at Parliament that Gunaratnam could get Sri Lankan Citizenship if he renounces his Australian citizenship.
FSP representatives of Gunaratnam who submitted a visa application for the latter on Thursday also collected a Sri Lanka citizenship application from the Immigration authorities saying that they would return the completed form on Monday, sources said.
A senior officer at the department disclosed that Gunaratnam will have to submit his application for the citizenship in Sri Lanka before the expiry of the two-month visa.
Once the application is received, as per the procedure the department will obtain a security clearance report from the State Intelligence Service (SIS) on the particular applicant's history.
In the meantime relevant documents will be processed within the department with the consent of the Ministry of Internal Affairs to grant the citizenship to the applicant. Once this is done three more months will be given to the applicant to renounce his foreign citizenship.
When the applicant submits proof that his foreign citizenship is renounced the local authorities will get the final consent of the Minister of Internal Affairs who would approve the certificate of Sri Lankan citizenship to the applicant.
However, in Gunaratnam's case he could have easily obtained a dual citizenship status to live either in Sri Lanka or Australia under the dual citizenship programme. But it was evident that Gunaratnam was insisting on obtaining only Sri Lankan citizenship and would ready to give up the other at any given point, if the Government is ready to grant him citizenship.
A Sri Lankan dual citizenship holder enjoys all the civil rights a regular citizen would enjoy including the right to vote and even to contest in an election for a provincial council.
The only right a Sri Lankan dual citizenship holder would deprive of is that he or she could not contest in any Parliamentary election. (Kurulu Koojana Kariyakarawana)