---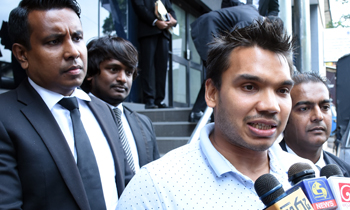 The unity government is attempting to suppress its political opponents at the upcoming Local Government elections by creating a Police State, MP Namal Rajapaksa said today.
He said this after arriving at the Organised Crimes Prevention Division to record a statement over an alleged incident of insulting an FCID officer.
The FCID officer had reportedly lodged a complaint against MP Rajapaksa on the charges of being fat-shamed by him.
However, Mr. Rajapaksa said according to Minister John Amaratunga, the government beefed up its security with arms and police protection in preparation for the upcoming election.
"I was informed by the media that the driver of Minister Sajith Premadasa was arrested for possessing arms. However, he had been released on bail. I would like to know on what condition the suspect was bailed as possessing arms is a grave offence," he said.
On a different note, Mr. Rajapaksa said the government's foreign policy depended on an insect.
"The government has messed up its foreign policy. President Maithripala Sirisena boasted about banning Asbestos as they were cancerous. Recently, a beetle was found in a consignment of tea shipped to Russia and it resulted in Russia banning Ceylon tea. Against this backdrop, the President is attempting to lift the ban on Asbestos," he said. (Thilanka Kanakarathna)
Video by RM