---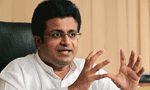 The Sri Lankan government is involved in secret mission to launch the 'Hanuma Bridge' project connecting Sri Lanka and India under the intimidation of the Indian Government, Pivithuru Hela Urumaya (PHU) General Secretary and MP Udaya Gammanpila said today.
Addressing a media briefing, MP Gammanpila said Higher Education and Highways Minister Lakshman Kiriella once refused to accept the fact that this bridge would be constructed when MP Gammanpila inquired about it in Parliament after seeing a news item published in an Indian newspaper.
"That news piece reported a statement made by the Indian Highways Minister in Parliament saying the Hanuman Bridge would be built connecting Sri Lanka and India. When I inquired about it from Minister Kiriella he asked me to believe what is said in Sri Lankan Parliament. Even the Prime Minister asked me to do the same," he added.
He said this fact has been proved after a statement made by Investment Promotion Minister Kabir Hashim at an investors conference which was recently held in Indonesia.
"While replying to a question asked by a foreign investor Minister Hashim confirmed to the international gathering that the Hanuman Bridge will be constructing connecting the two countries," he said.
He requested the Government to restrain from taking such a step which would place Sri Lanka's independence at stake. He also urged that a referendum be held to obtain the peoples' opinion for this if the Government was to continue with this project.
He alleged the Government had concealed facts about this project even after several inquires made by him in Parliament.
"Constructing of a bridge to connect India and Sri Lanka is not to join the two countries but to connect Northern Province of Sri Lanka and Tamil Nadu. If the Government proceeds with this project, Sri Lanka would have to face many issues in sectors such as health, education and occupations," he added.
He said they were even ready to blast out the Hanuma Bridge for the sake of the national security if it would be constructed in the future. (Kalathma Jayawardhane)
Video by Buddhi