---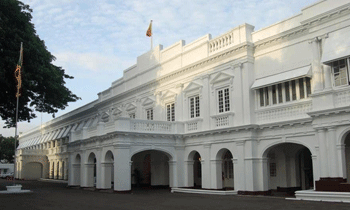 Governments are not bound by the advice or recommendations of UN Special Rapporteurs, but can avail of the expert knowledge and experience of Special Rapporteurs who are available to Governments as a resource, the Foreign Affairs Ministry said on Wednesday.
Issuing a statement, the Ministry said some media reports connected to the visit of UN Expert on Transitional Justice Pablo de Greiff, had given erroneous and misleading information.
"Advice and expertise of UN Experts can be obtained by countries in a manner that would benefit institutional capacity building, policy formulation, and policy reform and training needs as a Government may consider necessary," it said.
At the invitation of Sri Lanka, the UN Special Rapporteur on the Promotion of Truth, Justice, Reparation and Guarantees of Non-Recurrence Pablo de Greiff arrived in the country on Tuesday.
The Ministry said successive Governments in Sri Lanka have been inviting such Special Rapporteurs to the country to obtain their views and expert advice on specific thematic areas.
It said Mr. de Greiff is an Independent Expert in a specific subject area and Special Rapporteurs are mandated to report and advise Governments on human rights from a thematic or country-specific approach.
It said the Special Rapporteur follows a victim-centred approach and integrates a gender perspective. "The victim-centred approach means all victims of a situation of conflict and not one group or one community," it said.
As required of Special Rapporteurs, he will present a Report on his visit to the Human Rights Council, in September 2018.
The statement said it was for the Government of Sri Lanka to decide whether there is anything that the Government considers beneficial to the people of Sri Lanka in his recommendations and whether the Government wishes to draw on his knowledge, expertise and advice and consult him further in any manner, once Mr. de Greiff presents his Report.