---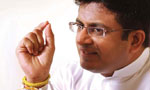 Pivithuru Hela Urumaya (PHU) General Secretary MP Udaya Gammanpila today said Sri Lanka would be faced with a great economic collapse in future, even though the government had announced in the 2017 Budget that there would be a positive turnover in the economy of the country next year.
Addressing a media briefing, MP Gammanpila said three main international companies had predicted that the Sri Lankan economy would be collapsed in the future, according to the sequential investigations made by them.
"Fitch sequential has stated that the Sri Lankan economy is decreased to B+ from BB and it would be a risk to the country. The Greek's Fitch ratings are also the same. This means the risk of a breakdown in the country's economy," he added.
MP Gammanpila said the investors of the stock market would wind up Sri Lanka because of the pathetic economic condition prevailing in the country: "There would be no direct investors from the international market to invest in Sri Lanka with the current economic collapse in Greece. Will they once again invest their funds in our bonds?" he added.
He said the Standard and Poor's company has also stated Sri Lanka as a country which had risked the B+ stability and added that the Moody's company has also announced Sri Lanka as an economically risked and negatively impacted country in the near future.
Video by Chamilka