---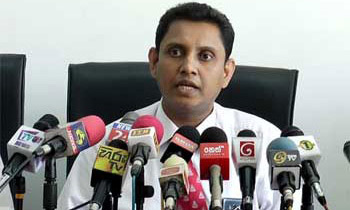 The Government Medical Officers' Association (GMOA) today threatened to launch a major trade union action within the next fortnight over the South Asian Institute of Technology and Medicine (SAITM) issue.
GMOA Assistant Secretary Dr. Haritha Aluthge told a news conference that they were forced to resort to such a step with the government's continuous inability to provide a justifiable solution to the SAITM issue.
"The government is always providing us with false solutions regarding this matter. Several trade unions including the Ports Authority, banking, electricity and teaching sectors have decided to join hands with us in this battle," he said.
He said discussions were going among these trade unions and the GMOA regarding it and added that they would announce their final decision about it next week.
He said this trade union action would highly affect the government as well as the people.
Meanwhile, GMOA Secretary Dr. Naveen De Soyza said they were still hoping for President Maithripala Sirisena's declaration on the SAITM that it should be nationalized.
"The President will soon declare it since he has already decided to nationalize the Neville Fernando Teaching Hospital (NFTH). Perhaps, there can be political forces to pressurize him. But we still hope for a justifiable solution to this issue from him," he said.(Kalathma Jayawardhane)
Video by Richan