---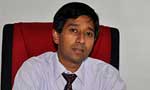 The Government Medical Officers Association (GMOA) has today written to President Maithripala Sirisena requesting him for an immediate meeting to discuss several issues including their trade union action and their request for the Health Ministry to be placed under his purview.
In the letter, GMOA President Anurudda Padeniya had said the Health Ministry had failed to harness thepositive contribution that could be provided by the GMOA because of the anti-GMOA policy adopted by Minister Rajitha Senaratne.
"The entire health sector is in chaos today. The ministry's reputation upheld during your tenure as minister is deteriorating because of individualistic and family-based action by the current minister," Dr. Padeniya said.
The GMOA reiterated its request for the President to take over the ministry so as to prevent a breakdown of the health sector. "This is the view of a majority in the health sector as the best option in this situation," he said.
In the letter, Dr. Padeniya said the GMOA Central Committee had opted for trade union action even though they disliked doing so. "However, we will not allow any breakdown in treating emergency cases or in the treatment offlood victims," he said.