---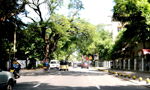 Four major roads in Colombo Jampatta Street, Cambridge Place, Guildford Crescent and Thurstan Road, were being renovated at the moment, the Colombo Municipality said.
"We are making the pavements, drainage system, street lights, re-marking the lanes and landscaping. We have completed most of it but we have halted the process down Thurstan Road because the development project has not been completed," Colombo Municipality Commissioner V. K. A Anura said.
Park Road and Kirula Road will be next in line for renovations while measures are being taken to widen Purwarama Road. "We are in the process of acquiring land in the area.
The Purwarama Temple has agreed to allow the widening and we will initiate the project soon," Guruge said. (Nabeela Hussain)