---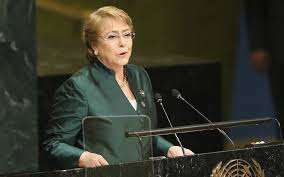 Former two-time President of Chile, Michelle Bachelet has been appointed as UN Human Rights High Commissioner with effect from September 1, the UN said.
She was elected by the United Nations General Assembly in New York on Friday.
Minutes after she was voted in, UN chief Antonio Guterres told reporters he was "delighted" by the news of her official appointment as Michelle Bachelet "has been as formidable a figure in her native Chile, as she has at the United Nations".
"She has lived under the darkness of dictatorship," he continued. "As a physician, she knows the trials of people thirsting for health and yearning to enjoy other vital economic and social rights. And she knows the responsibilities of both national and global leadership".
Following the announcement, Ms. Bachelet said she was "deeply humbled and honored" to have been entrusted with "this important task."
Her predecessor in this position, Zeid Ra'ad Al Hussein also warmly welcomed her appointment.
"She has all the attributes – courage, perseverance, passion, and a deep commitment to human rights – to make her a successful High Commissioner," he said on Friday in a statement.
The UN chief paid special tribute to Zeid, who is stepping down after one term as the key UN voice on global human rights at the end of this month, saying that he wished "to express my deep gratitude to my good colleague and friend."
Michelle Bachelet will be the seventh High Commissioner since the office was created in 1993.