---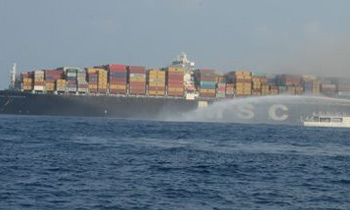 The Chemical substance container carrying ship 'MSC Daniela", which caught fire on April 4 was still remained a threat to the environment as the fire was not hundred percent doused, Marine Environment Protection Authority (MEPA) General Manager Dr. Turny Pradeep Kumara said.
On April 4, the Maritime Rescue Coordinating Centre (MRCC) Colombo, had received a fire distress call from the local agent of 'MSC Daniela' as the vessel was 120 Nm off Colombo.
The Indian Coast Guard threw its weight behind the Sri Lanka Navy and Air Force to douse the fire onboard container carrier "MSC Daniela" off the Colombo port. In addition, the Indian Navy had also directed two of their ships INS 'Darshak' and INS 'Garriel' to the location.
Dr. Turny Pradeep Kumara revealed this information at a media briefing held in Matara on Saturday. The fire erupted when it was passing Indian Ocean in the close vicinity of Sri Lanka and it was transporting 11,000 containers across Indian Ocean when this mishap occurred.
"During night harmful particles are flown towards land with the inter monsoon wind now prevailing," the General Manager said.
It has been decided during the media briefing to launch an investigation under the Secretary of Mahaweli Development and Environmental Ministry Udaya R. Senevirathna and Chairman of Marine Environment Protection Authority retired Rear Admiral Rohana Perera, he said. (R.G. Jayawardena)