---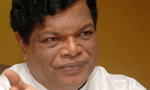 The Finance Ministry did not have the authority to introduce the new Annual Company Registration (ACR) Fee under the Companies Act, the Joint Opposition said yesterday.
Addressing a media briefing, Joint Opposition MP Bandula Gunawardane said the new registration fee would be annually implemented on private companies with a fee of Rs. 60,000.
"For public companies the fee is Rs. 100,000 and for listed public companies the fee is Rs. 500,000," he claimed.
"These companies had to pay this fee before the end of March, but many of those companies will not be able to pay it and now the payment period had been extended to end June," he added.
He said the local companies had rendered helpless due to this condition;
"Nearly 5,000 companies had been shut down with the newly introduced company registration fee," he added.
He said such levies could only be done by the Company Registrar under the Companies Act of 2007.
He said the finances charged by the Company Registrar were earlier centered as 2/3 for the Companies' Fund and 1/3 for the Consolidated Fund under the Company Act.
"However, at present, 100 percent of the finances were claimed for the Consolidated Fund. Only the Company Registrar is authorised to do it," he said.
He said as the Joint Opposition, they vowed to the local companies that they would curtail this registration fee up to an amount less than Rs. 15,000, when they again came to office.
Meanwhile, he said that he preferred the participation of these entrepreneurs to the Joint Oppositions' actual Anti-tribulation May Day rally, which would be held at Kirulapone. (Kalathma Jayawardhane)
Video by Janaka