---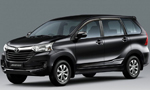 As part of his austere style of governance, incoming Philippines President Rodrigo Duterte plans to replace luxury sedans with cheaper cars for cabinet members.
According to the INQUIRER, Duterte identified the Toyota Avanza MPV as the official vehicle that will transport most senior members of his administration.
Speaking at a forum with media members on Tuesday, designated House Speaker, Rep. Pantaleon Alvarez, said Duterte wants the Avanza, as it was the cheapest.
Alvarez, a long time friend of Duterte, drew laughter from the editors and journalists present when he said: "When someone asked me what I will do, I said I will invoke separation of powers."
Alvarez said he would use a pickup truck when Duterte takes office, adding he was accustomed to driving around in such vehicles.
After proclaiming his landslide victory in the May 9 elections, Duterte told a meeting of his Cabinet members that he was gearing up for a frugal administration. The austere move included the relinquishment of some perks, including business class flights, the use of public funds for junkets, and expensive cars.
Duterte, who is expected to be sworn in as president on June 30, has also vowed to make these new "ground rules" effective on the day he takes office.
Less than a week after his election victory, the Davao city mayor announced plans to sell off the presidential yacht and wanted all aircraft assigned to the Presidential Airlift Wing to be converted to "air ambulances".
The aircraft to be converted into the ambulances include the Fokker F-28, Fokker F-27 Friendships, S-70 Blackhawks, S-76s, SA-330 Pumas, and Bell 412s used to ferry the president, dignitaries, and VIPs.