---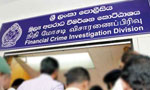 The Police Financial Crimes Investigation Division (FCID), investigating allegations of mega scale fraud and corruption involving top politicians of the previous regime said only five cases had been taken up in Courts out of 41 completed files.
A Senior FCID Officer said 36 files had been referred to the Attorney General's Department for his opinion prior to taking legal action and was awaiting a response from the AG even though it's a year since the files were referred to the Department.
The five cases being taken up in Court includes three against former minister Basil Rajapaksa, one against former presidential secretary Lalith Weeratunga charged with donating Rs.600 million worth of white cloth for Buddhist observances and the other against former Securities Exchange Commission chairman with regard to a Rs.50 million fraud.
The FCID expects the 36 files to be granted the AG's approval to be referred to Courts.
It is currently probing 20 major cases of fraud and misappropriation of state funds by politicians of the Rajapaksa regime including MPs Namal Rajapaksa and Keheliya Rambukwella.
The completed cases pending the AG's advise approval include the mega Oil Hedging deal by the Ceylon Petroleum Corporation and distribution of millions of rupees worth of sports accessories by the then sports ministry.
A FCID officer was positive that the AG's Department would speed up matters without any delay for whatever reason. (Kurulu Koojana Kariyakarawana)