---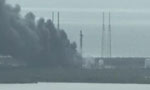 There has been an explosion on the launch pad at the Kennedy Space Center in Florida, US where the aerospace company SpaceX was readying an unmanned rocket for launch, BBC said today.
The cause of the blast is not clear and it is not known if anyone was hurt.
NASA said SpaceX was test-firing a rocket which was due to take a satellite into space this weekend.
Pictures from the scene show a huge plume of smoke rising above the Cape Canaveral complex.
The force of the blast shook buildings several miles away. Local emergency officials described the incident as a "catastrophic abort during a static test fire".
In a tweet, the Brevard County Emergency Management Office said there was no threat to the public.
SpaceX is seeking to create a new era of reusable rockets and affordable private space travel and has used its Falcon-9 rocket to take supplies to the International Space Station (ISS).
In April, the California-based company successfully landed a Falcon-9 on an ocean platform, after four previous attempts failed.