---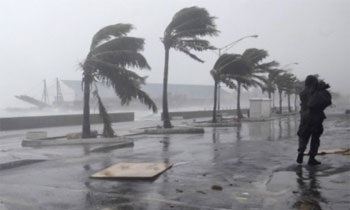 Fairly strong winds (up to 40-50 kmp/h) could be expected over the island, the Department of Meteorology said in its forecast yesterday.
The atmospheric disturbance that brought some rain to some parts of the country during the last few days had moved further away heading Myanmar.
"Mainly fair weather will prevail over most provinces of the island," it said.
"However, light showers may occur in the Western, Sabaragamuwa and Central Provinces and in the Galle and Matara Districts," it said.
It also forecast that showers or thundershowers may occur at few places in the Eastern and North-Central Provinces after 2.00 p.m.
"There may be temporary localised strong winds during thundershowers. The General public is requested to take adequate precautions to minimise damages caused by lightning," the Meteorological Department warned.
Meanwhile a weather information website AccuWeather.com said that the depression in the Bay of Bengal was strengthening and was heading towards Myanmar.
"A strengthening tropical cyclone in the Bay of Bengal is expected to target Myanmar, preventing India from welcoming any relief from the dangerous heat wave," the Accuweather.com reported yesterday.
"A tropical depression formed on Saturday evening, local time, across the central Bay of Bengal. At the time the cyclone was located to the west of the Andaman Islands.
Conditions will be conducive enough that the system may strengthen into a cyclonic storm and potentially even a severe cyclonic storm. Despite being nearby to India it will have no direct impact on India," the report said.
By yesterday Sunday, 16 April the Sun was at its zenith at Latitude: 10° 14' North, Longitude: 65° 57' East. Sri Lanka's location is between about 6° N-9°N and 79 E – 81E. The sun was directly above the island during the last week causing temperatures in the country to rise. Despite passing over the land mass the heat is expected to continue in the week, reports said.