---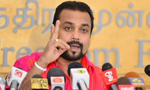 National Freedom Front (NFF) Leader Wimal Weerawansa today said the Government needed at least one of the Rajapaksas in prison at any given time and that it may even place Minister Wijeyadasa Rajapakshe in jail, because he was also a 'Rajapaksa'.
Addressing a news conference held by the Joint Opposition, he said this was why the FCID had arrested former MP Basil Rajapaksa, when his nephew MP Namal Rajapaksa was released.
"It seems anyone with the surname Rajapaksa could be put in jail, so the Government leaders could have a good night's sleep. At this rate, they would even take Minister Wijeyadasa Rajapakshe in," he said.
He charged that the Janatha Vimukthi Peramuna (JVP) had become the mouthpiece of the Government announcing the arrest of political opponents. (Lahiru Pothmulla)
Video by Sanjeewa