---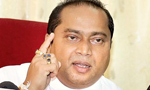 President Maithripala Sirisena has taken upon himself the duty of purging the SLFP of destructive elements and in the process even Mahinda Rajapaksa family members may their positions as party organisers, Western Province Chief Minister Isuru Devapriya said yesterday.
He said last week's appointment of 40 new electoral organizers by the SLFP Central Committee on the instructions of party leader and President Sirisena last week was aimed at taking the party towards victory at the forthcoming local government polls and 2020 parliamentary elections.
The chief minister told the media that there were more black sheep who had violated the party constitution, insulted the party leadership, hooted at the party head office and committed several other unforgivable acts of treachery against the party and deserved immediate expulsion.
"There will be a full cleansing and reorganization of the SLFP and in due course all those who betrayed the party will be removed from their positions. President Sirisena as the party leader had a lot of patience and gave more than enough opportunities to those who acted against the party and the party leadership to mend their ways.
Some party members and supporters even blamed the party leadership for treating the betrayers leniently. Now he has taken the sword into his hands and there will be more cleansing being carried out in the days to come with even members of the Rajapaksa family losing their posts as party organisers," the chief minister said.
Responding to a journalist, he said nearly all those who had been removed would be unable to obtain one-tenth of the votes they polled as SLFP candidates because people voted for the party and not for individuals.
The chief minister said those who had been expelled from the SLFP organizer posts had done no party work at their respective districts and constituencies during the past 18 months other than to insult the party leadership and undermine the SLFP.
In response to another journalist, he said those who have resigned from party organizer posts on their own were to be expelled for sure and the members of the joint opposition were in the final stages of their term in parliament and none of them would be re-elected at the next polls.
"This will be their last hurrah in their political life," the CM said.
Commenting on the future of the consensual or unity government, he said it would be the President and nobody else who would decide on the continuation of the unity government after 2020.
However, Mr. Devapriya said those who had been expelled still had the opportunity to plead for forgiveness, pledge allegiance and and re-join the party.
On certain party organizers who continue to work against the party but had not been expelled, he said no one knows whether they had a secret deal with the party leadership. (Sandun A Jayasekera)