---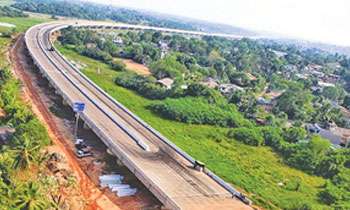 The cost involved in phase one and two of the Central Expressway has been overvalued in the contracts signed by the Road Development Authority (RDA) with the construction companies by Rs 38.2 billion, the report of Committee on Public Enterprises (COPE) which was presented to Parliament, revealed today.
The report presented to the House by COPE Chairman, JVP Parliamentarian Sunil Handunetti had revealed that the engineers' estimate for section one of the project was Rs 129 billion whereas the contracted value had been Rs 158 billion. The engineers estimate for section two of the project had been Rs 126.89 billion while the contracted cost had been Rs 137.1 billion.
The COPE had requested the Auditor General to conduct an audit on it in 2017 but the report had not been submitted even by March 31 2018.
It has been revealed that there is a considerable difference between engineering estimates and the contracted value. There contacted cost is 40 percent more than the engineers cost.(Yohan Perera and Ajith Siriwardana)