---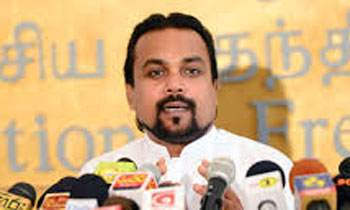 National Freedom Front (NFF) leader Wimal Weerawansa said today the government was planning to pass the Bill on the International Convention for the Protection of All Persons from Enforced Disappearances in parliament on September 21, which would endanger the lives of the security forces.
He said according to the 11th clause of the convention, the government was bound by law to arrest and hand over any security personnel to a foreign country if a case was filed against him in a court there.
"If the convention was passed in Parliament, the government is bound to hand over even General (Rtd) Jagath Jayasuriya, who had a case filed against him, in a foreign country," he said.
He told a news conference that the United States or Britain had not signed the convention and added that India had not authorized it even though it had signed it.
"The then foreign minister Mangala Samaraweera who signed the convention secretly is now planning to authorize it in parliament,' he alleged.
He said the government was also planning to present the 20th Amendment to the Constitution in parliament on September 20 and get it approved to postpone the Provincial Council elections pretending that it was done to hold PC elections on the same day.
"The government is planning to postpone the PC elections to three provinces which were to be held in September and elections to the other provinces as well. Elections cannot be postponed without a referendum," he said. (Ajith Siriwardana)