---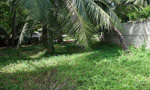 The Colombo Municipal Commissioner has been directed to develop empty lands within the city limits as soon as possible.
Minister of Provincial Councils and Local Government Faizer Mustapha directed the Commissioner when he was inspecting the market places in Deans Road, Kollupitiya and Dematagoda recently.
The minister also stated that the assistance of the Board of Investment (BoI) should be obtained for the purpose.
After speaking to the vendors and the customers at the market places, the Minister directed the Commissioner to develop the facilities available and set up a programme to bring in more customers.
He stated the car park to be renovated and the renovation of the market place to be done with the income earned from the car park.
When vendors at the Maradana market place pointed out that they were losing business because of unauthorized vendors outside the market place, the Minister directed that a space be made for the vendors outside in the market place.
The Minister also directed that the Municipality to establish a programme which would develop the market place with the income it received.