---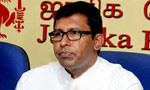 Members of the joint opposition are pressuring and threatening Elections Commissioner Mahinda Deshapriya to hold the local government elections, Jathika Hela Urumaya (JHU) National Organizer Nishantha Sri Warnasinghe said today.
He said such pressure on the EC could lead to an election without implementing the proposed electoral reforms but instead under the much criticized previous preferential voting system.
Mr. Warnasinghe told a media briefing that according to informed sources, the LG polls were going to be held under the preferential voting system as a result of pressure by the joint opposition despite the fact that delimitation activities were yet to be completed.
He warned that it would be a violation of the people's mandate if the elections are again held under previous system which was rejected by the people who voted in favour of the current government introducing electoral reforms.
Mr. Warnasinghe urged the government to refrain from holding the LG polls without completing the delimitation process and implementing ward-based electoral system.
Commenting on the new political party, Sri Lanka Podujana Peramuna, he said the helpless former MP G.L. Peiris was sacrificed by appointing him Chairman of the party with its flower-bud symbol.
"Wasn't there any one better than G.L. Peiris? Why couldn't Basil Rajapaksa, Kumara Welgama or Prasanna Ranatunga take the leadership of their party? The lack of confidence and policies of those party members is clear from not being able to elect a leader to head the party," Mr. Warnasinghe said. (Piyumi Fonseka)