---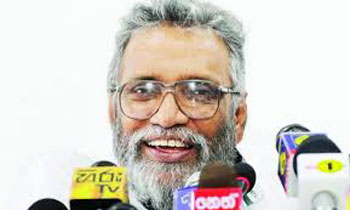 The Elections Commission yesterday hinted that the Provincial Council Election could be held in September, since the terms of the Central, Northern and North Western Provincial Councils were likely to expire and be dissolved by then.
Elections Commission Chairman Mahinda Deshapriya told a news conference that the North Central, Eastern and Sabaragamuwa Provincial Councils had already been dissolved, but added that the Parliament was the sole authority on when to hold these elections.
"In order to hold the Provincial Council election, the report of the delimitation committee should be presented by the subject minister to Parliament and it should be passed by a special majority. If not, the Prime Minister could appoint a committee to proceed with the delimitation report," he added.
He said the duty of the Elections Commission was to prevent delays in the holding of elections and added that they were duty bound to safeguard the franchise and sovereignty of the people.
While referring to the issues that had arisen in the Maharagama Urban Council, he said the members of an independent group could not be forcefully removed by anyone unless they resign voluntarily. However he pointed out that the candidate belonging to a certain party could be asked to resign and a party's leadership could either remove or suspend such a candidate unlike in the case of independent groups.
"As per the provisions in the Local Authorities Elections (Amendment) Act, that person has to be qualified to be a elector and has only to prove ordinary residency in a certain electorate. It is not necessary to be a qualified voter or to prove permanent residency in order to be able to vote ," he said.
He said the Elections Commission does not have the authority to provide its opinion on this issue and added that it was the duty of the related party to provide the aforesaid criteria through a competent court.
Meanwhile, he said the Elections Commission had never intended to reduce the implementation of the 25 per cent quota for women even though they had no authority to make it mandatory; "However, we warmly welcome the increase of women representation in local authorities," he added.
He also said the deputy commissioners and assistant commissioners, being the returning officers of the relevant councils, had sent letters to the political party secretaries and independent group leaders to nominate the numbers of candidates from list one and two (Kalathma Jayawardhane)