---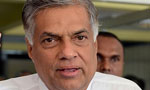 The main objective of the Development (Special Provision) Bill is to engage the Provincial Councils in national development, Prime Minister Ranil Wickremesinghe said yesterday.
He is reported to have said this addressing Provincial Council Chief Ministers.
He said taking over the powers of the Provincial Councils or creating a super minister were not meant through this bill, but it was aimed at establishing a Development Board for the speedy development with the assistance of Provincial Councils.
The Chief Ministers of the Western, Southern, Eastern and Uva provinces attended this meeting at Temple Trees.
The Chief Ministers said the Provincial Councils' approval was necessary when decisions were taken regarding subjects coming under their purview. (Anjula Mahika Weeraratne)