---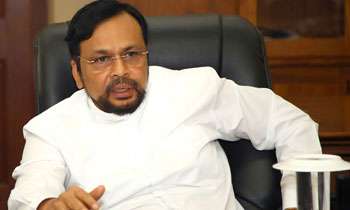 State Minister of Higher Education and Cultural Affairs, Mohan Lal Grero said yesterday the media report about an archaeological monument in Kilinochchi that was said to be demolished by Karachchi Pradeshiya Sabha officials was in fact not an archaeological monument.
He told parliament that the bricks found at the location were identified by the Central Cultural Fund (CCF) officials as bricks used for the renovation of the Abhayagiri Stupa sometime back.
He said this in response to a question asked by joint opposition MP Dinesh Gunawardane whether any action had been taken against those responsible for the demolition.
The minister said the CCF had awarded a contract to several contractors to supply bricks to be used for renovating the Abhayagiri stupa.
"The army had taken away a load of substandard bricks stacked in the site of the Abhayagiri Stupa with the permission of the CCF just after the war and had erected a wall around a war memorial in Kilinochchi. The site said to have been demolished was identified as an L-shaped wall erected with the same bricks a few metres away from the war memorial," he said.
The minister said this site had been bulldozed by the Pradeshiya Sabha officials so that it could be used for a parking lot and a fair.
The MP the government had turned a blind eye to the incidents where so many archaeological sites were being vandalised in the North and East.
The minister said for the past three years more archaeological sites had been vandalised in other parts of the country rather than in the North and East and pointed out that 203 sites had been vandalised in the other areas in 2016 while it 12 sites were vandalised in in the North and in 2017. He said 290 were vandalised in other areas while 10 sites were vandalised in the North in 2018 and 184 in other areas and 8 in the North.
He said Anuradhapura was reported as the place where most number of sites were demolished while Kurunegala and Tangalle came next. (Ajith Siriwardana and Yohan Perera)