---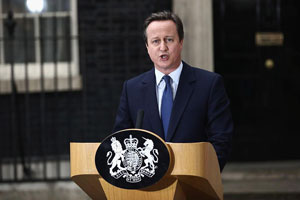 David Cameron has resigned as Prime Minister after six years in Downing Street.
Mr Cameron went to Buckingham Palace just before 5.00pm on Wednesday to formally tender his resignation to Queen Elizabeth II.
The former Prime Minister made a short final address outside Downing Street, surrounded by his three children and his wife Samantha.
"It has been the greatest honour of my life to service this prime minister for the last six years and to serve as leader of my party for the last 11 years," he said.
"As I leave for the last time my only wish is continued success for this very great country that I love so very much. Thank you."
Mr Cameron spent just over half an hour in Buckingham Palace speaking to the Queen after making the short trip from Downing Street via motorcade.
He emerged from the palace at around half past five.
The former PM is moving out of Number 10 to make way of Theresa May, who was elected as the new leader of the Conservative party this week.
He announced he would be stepping down after Britain voted to leave the European Union in a referendum on 23 June.
Mr Cameron recommend that the Queen appoints Ms May, the Home Secretary as his successor.
Ms May's appointment as PM was confirmed at around 5.45pm.
She won the Conservative leadership election after her final rival dropped out, and has gone to the palace to formally assume the office of PM.
The new Prime Minister, Britain's second woman to hold the post, is expected to unveil the core of her Cabinet later this evening. (Independent)