---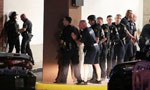 Snipers shot dead five police officers and injured six others in Dallas, unleashing chaos during a protest against police shootings of black men in an ongoing standoff Friday.
Police had the city on lockdown after a suspect warned that bombs had been planted throughout the city center.
The shootings, which the police called a "terrorist incident", took place as several hundred people marched through the Texan city to protest the fatal shootings this week of two black men by police in Louisiana and Minnesota.
As the rally was winding up, shots rang out around 9:00 pm (0200 GMT Friday), causing panic among the protesters, who scrambled to take cover.
City police chief David Brown said two snipers shot at the police "from elevated positions during the protest/rally". A civilian was also wounded.
Police continued to trade fire with a suspect into the early hours of Friday at a downtown garage.
The suspect "has told our negotiators that the end is coming, and he is going to hurt and kill more of us, meaning law enforcement. And that there are bombs all over the place in this garage and in downtown," Brown told reporters. (AFP)