---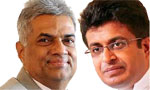 Prime Minister Ranil Wickremesinghe and Opposition MP Udaya Gammanpila engaged in crosstalk in Parliament yesterday when an issue relating to the Hanuman Bridge between India and Sri Lanka came up for debate.
The Premier pointed out that Sri Lankans were unaware of the statements made by Indian Minister of Road Transport Nitin Gadkari in the Lok Sabha regarding the said matter.
He said Minister Gadkari's speech was recorded in the Lok Sabha Hansard in Hindi and no one would be able to understand it, and added that Sri Lanka and India had not held any discussion on the issue thus far.
This explanation by Prime Minister Ranil Wickremesinghe took a different direction when he subsequently, sarcastically questioned Mr. Gammanpila on his knowledge on Hindi language.
Mr. Gammanpila who then reacted, ironically asked the Premier if the local government had taken any measures to express displeasure on the statements made by the Indian Minister, if the concerns pointed out were false.
In response, Mr. Wickremesinghe said it would be a costly and difficult exercise as it would be necessary to hire interpreters who were conversant in both English and Hindi. (Yohan Perera)