---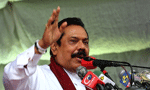 Former president and Kurunegala District MP Mahinda Rajapaksa said yesterday that he couldn't figure out the 'hopper theory' and that's what triggered his defeat.
Addressing an event held at Sri Sudharmarama Temple in Narammala, he said the present government only has the protection of the Criminal Investigation Department (CID) and the Financial Crime Investigation Division (FCID).
"From all this, I learnt that there is a theory called 'the hopper theory.' We are only used to meals made of Kurakkan. Though we had hoppers, we couldn't figure out the hopper theory. That's what went wrong," he said.