---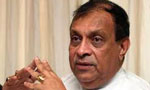 Speaker Karu Jayasuriya yesterday presented a draft of Code of Conduct for MPs and asked them to submit their views on it within two weeks.
An MP, found guilty of unethical behavior, will be subjected to sanctions including suspension from Parliament for a specific period not exceeding the limit set by the Parliamentary Powers and Privileges Act.
Also, a member can be subjected to any other sanction prescribed by the Supreme Court on a matter referred to it by Parliament under the same Act. Censure and reprimand are the other forms of sanctions set out as punishments for MPs who act in contravention of this code.
The code will be enforced under the Standing Orders of Parliament. Once it is approved, the present Committee on Privileges is to be renamed as the Committee on Privileges and Ethics. This committee can seek assistance from experts if necessary in cases against the MPs.
Based on its recommendations, Parliament can decide on necessary action. Any person can complain against the misconduct of an MP. However, it has to be done through another MP in the form of a motion. Afterwards, the Speaker will decide whether it should be forwarded to the committee or not. The complainant has to declare his identity and supportive evidence.
The draft says complaints made on unsubstantiated media reports will not be entertained. The committee can drop the case if it is a prima facie.
According to the code, MPs should not assault harass or intimidate another person. The MPs are supposed to exercise civility and use appropriate parliamentary language. A member should use public funds, property and facilities only in the public interest. It is prohibited for them to accept any form of inducements. (Kelum Bandara and Yohan Perera)