---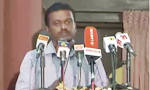 The Movement for a Just Society and the Purawasi Balaya Movement that toiled for the victory of President Maithripala Sirisena today condemned and expressed their displeasure over the recent statement of the President regarding the CID, FCID and the Bribery Commission.
Calling a media conference at 11.00 am in Colombo, the civil society movements had boycotted a meeting scheduled to be held with the President at 12 noon today at Presidential Secretariat regarding the much contentious statement which created a storm in Sri Lanka politics.
Purawasi Balaya Movement Co-Convener Saman Rathnapriya said there was no need to inform the President or the Prime Minister on the developments of ongoing investigations and prosecution in advance. If so, it would obviously tantamount to an unnecessary political inference, he said.
While questioning the difference between questioning the general public and those involved in the Defence Sector, Mr. Rathnapriya said the law should be applied equally to everyone with no double standards.
"The three former commanders of the Navy and Former Defence Secretary Gotabaya Rajapaksa were summoned to the Court since they were suspects in the Avant Garde case filed by the Bribery Commission. What is the big deal about it? It is regrettable how the President is eyeing to meddle in affairs of the Independent Commissions such as Bribery Commission. Can they be called independent anymore? ," Rathnapriya asked. (Piyumi Fonseka)
Video by Danushka