---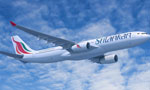 On a quest to find a strategic investor to help revive the loss-making national carrier, it is learnt that the government is close to finding a prospective partner to manage SriLankan Airlines.
Informed sources told Mirror Business that the firm likely to come on board to manage the debt-laden carrier would be China's largest privately-owned air transport firm, Hainan Airlines Company Limited (HNA).
HNA is the fourth-largest airline in terms of fleet size in China and operates scheduled domestic and international services on 500 routes from Hainan and nine locations on the mainland, as well as charter services.
Its main base is Haikou Meilan International Airport with a hub at Beijing Capital International Airport and several focus cities.
It is one of eight airlines, all based in Asia, rated as five-star by Skytrax, along with All Nippon Airways, Asiana Airlines, Cathay Pacific, EVA Air, Garuda Indonesia, Qatar Airways, and Singapore Airlines.
When contacted, Deputy Minister of Public Enterprise Development Eran Wickramaratne said the government had so far received several "informal inquiries" about SriLankan but stopped short of giving out any specific names.
He also said his ministry was expecting a report from the mangers that were mandated to find a partner for SriLankan, once the deadline for applications expires.
The government recently called offers from interested investors to take over an equity stake in SriLankan Airlines. Appointed as transaction advisors were BNP Paribas and KPMG.
An advertisement by NSB Fund Management, lead managers to the deal, earlier this month said the invitations for expressions of interest (EOI) would be available from 27 July for a non-refundable fee of US $ 5000, whereas offers would close on 24 August.
Officials from SriLankan Airlines earlier had said that by end September, a suitable partner would have been picked.
In an effort to be an attractive venture the entity has kicked off a restructuring programme where it has focused on cutting down operational costs.
While the airline is looking at means to trim its human resources, it has already started cutting loss making routes to Europe and increased focus on India and the Far East.
In March this year the government announced it was seeking foreign assistance to turnaround the SriLankan.
The statement was made shortly the government having acknowledged that the national airline cannot payback its debt mounting over US $ 1 billion. In addition to the debt pile, SriLankan has accumulated losses of Rs.128 billion (US $ 872 million). (Shabiya Ali Ahlam)