---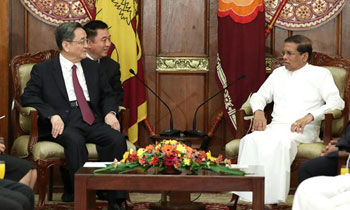 China and Sri Lanka are traditional good neighbours and their people have enjoyed long history of exchanges, Chinese top political advisor Yu Zhengsheng has said.
According to Chinese Media, he had expressed these views when he met President Maithripala Sirisena on Friday.
Yu, chairman of the National Committee of the Chinese People's Political Consultative Conference (CPPCC), visited Sri Lanka from Thursday to Saturday at the invitation of Speaker Karu Jayasuriya.
Since the establishment of diplomatic relations between the two countries 60 years ago, China and Sri Lanka has supported each other on the issues concerning their core and significant interests, with mutual beneficial cooperation bringing substantial benefits to the peoples of the two sides, the Chinese top political advisor said.
For his part, President Sirisena has said Sri Lanka and China have enjoyed long history of friendship and friendly people to people exchanges.
China has given strong support to Sri Lanka in peace realization and economic recovery, and Sri Lankan people love and respect China, the president said.
As the development of bilateral ties has entered a new stage, Sri Lanka will continue to uphold the one China policy and is looking forward to maintaining frequent high-level exchanges, deepen and broaden economic and trade cooperation and strengthen coordination and cooperation with China in international affairs, he added.
During his meeting with Sri Lankan Prime Minister Ranil Wickremesinghe on Friday, Yu said the China-Sri Lanka relations have witnessed comprehensive development in recent years with deepening pragmatic cooperation, and positive achievements have been scored in major cooperation projects.
Both sides should give play to their own advantages, exploit cooperation potential and jointly build the 21st Century Maritime Silk Road, Yu said, adding that they should also push for the steady development of key cooperation projects including the Colombo Port City and the Hambantota harbor.
Meanwhile, China and Sri Lanka should speed up negotiations on the bilateral free trade agreement (FTA), and expand their cooperation to new areas such as ocean, tourism and industry capacity so as to achieve mutual benefits and common development, he said.
Mr. Wickremesinghe said Sri Lanka is in the process of industrialization, modernization and urbanization, and that his country looks forward to boosting cooperation with China in the fields of trade, finance, ports and transportation infrastructure.
Sri Lanka is willing to join hands with China to build the Belt and Road so as to speed up the island country's economic development and boost regional economic integration, the prime minister said.
Also on Friday, the Chinese top political advisor met with Sri Lankan Parliament Speaker Karu Jayasuriya, saying that China is very happy to see social stability, economic development and continuous improvement of the people's living standard in Sri Lanka.