---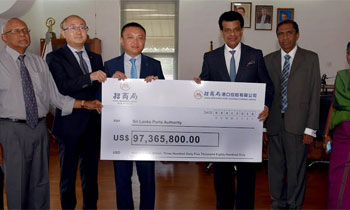 China Merchant Port Holdings (CMPort) today made the payment of US$ 97.365 million to the Sri Lanka Ports Authority (SLPA) as the second tranche of its investment in the Public-Private Partnership (PPP).
Sri Lanka formally handed over commercial activities of the Hambantota Port to the Chinese company in December 2017 and received $292 million out of the $1.12 billion deal, as the first tranche.
With the second payment, China Merchant Port Holdings (CMPort) had paid US$ 389.462 million to date.
The final payment is scheduled to be paid within six months of December 9, 2017, when the agreement was signed.
SLPA Chairman Parakrama Dissanayake said CMPort was one of the most successful global companies in the Ports sector, and their investment in the Port of Hambantota could be described as a credible vote of confidence in its potential as well as in the economy of Sri Lanka.
The two companies established in Hambantota plan to invest an additional US$ 400 million to US$ 600 million on Phase I and II of the Hambantota Port, in 2018-19.
These investments is expected to attract many foreign investors to the country, making Sri Lanka a pivotal maritime and Logistics Centre.