---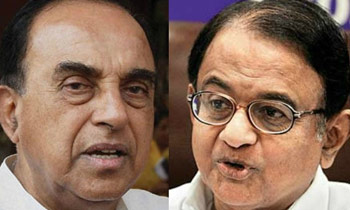 Bharatiya Janata Party (BJP) leader Subramanian Swamy has urged Prime Minister Narendra Modi to prosecute former finance minister P. Chidambaram under the new Black Money Act and Benami Act on charges of acquiring properties in Sri Lanka and 13 other countries, the ANI news agency reported today.
In his complaint, Swamy said the findings of the Income Tax's Chennai investigation team has said it was necessary to persecute them under the new law apart from charging them under Prevention of Corruption Act, Disproportionate Asset (DA) case and money laundering act.
"Report also shows the illegal assets and properties of P. Chidambaram and his family across the globe. The IT report finds that these huge assets were acquired by corruption and bribes taken when Chidambaram was the finance and home minister during 2004 to 2014," the complaint read."The huge properties, vine yards, hotels, farm houses were bought in London, Malaysia, Singapore, Sri Lanka, Spain, France and Greece like 14 countries, all acquired by black money by abuse of power."
Swamy asked Prime Minister Modi to instruct Revenue Secretary Hasmukh Adhia in this regard.
Prime Minister Modi has acknowledged the March 20 complaint.