---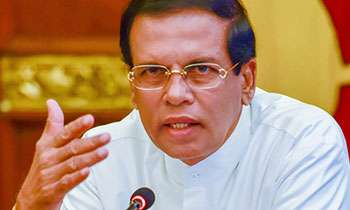 President Maithripala Sirisena yesterday suggested that certain parties were trying to postpone the provincial council elections by crowing over the Presidential Election instead.
The President said that six provincial councils were defunct at present and it was not a healthy sign of any democracy. He said this at a discussion to create awareness among electoral organisers at provincial level.
The President said that the delay in conducting elections went against the principles espoused by the 13th Amendment to the Constitution. He said discussions were underway with the Elections Commission to conduct the Provincial Council Elections and promised that it would be held soon.
Some parties are pointing fingers at the Presidential Secretariat for not appointing Chairmen and Board of Directors to the Corporations and Statuary Boards in respect of ministries though three weeks had lapsed since the appointing of the Cabinet of Ministers and this idea was false.
He said that he does not take any responsibility for this as the relevant recommendations have not been given by the Prime Minister and the relevant ministries should be held responsible in this regard.
President stressed that for the Chairmen and Board of Directors of Corporations and Statutory Boards it was compulsory that the Committee appointed to give their recommendations do their job and submit them.
A group including Senior Vice President of the SLFP Nimal Siripala De Silva, General Secretary Dayasiri Jayasekera, Parliamentarian Dilan Perera, former Chief Minister of Uva Province Chamara Sampath Dassanayake were present at this discussion.