---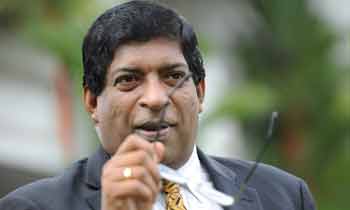 Former Foreign Affairs Minister Ravi Karunanayake, in an interview with Daily Mirror, said that the Central Bank is absolutely corrupt and inefficient.
MP Karunanayake, who resigned from his ministerial portfolio over allegations related to the Central Bank bond scam, said the truth will prevail after the report is out.
He refused to deal with allegations against him at length in the interview. Instead, he said he would discuss them after the report was released by the Bond Commission.
He said the biggest problem faced by him and the current Finance Minister was the Central Bank, which is absolutely corrupt and inefficient.
"It has stooges of the former governor. No amendment has been made to correct it. You could see it by its performance. You see the economic growth rate coming down to 3.4%, the inflation rising to 8.4%. These are what the opposition would like to see. These are the elements that ran the economy down then. The govt has changed, but not the officials. They are detrimental to the economy of the country," he said.
He said 'these Central Bank people' live in cocoons and try to toe the agendas of other people. "I say it with absolute responsibility that crooks are still remaining there,"he said. (Kelum Bandara)