---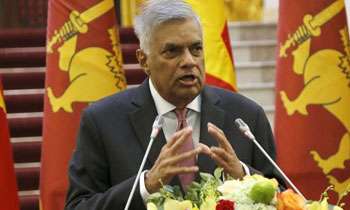 If someone called for a Hitler type military rule in this country in my presence I would have condemned it right there as it is against Buddhism, Prime Minister Ranil Wickremesinghe said over the weekend.
The Prime Minister said this at a ceremony held to mark the 125th anniversary of Maha Manthinda Priviena in Matara on Saturday.
He was referring to a recent statement made by Anunayake of Asgiriya Chapter Venerable Wendaruwe Upali Thera.
"If someone called for a dictatorship in my presence I would have opposed it right there. This is because it is a statement against the teachings of Buddha. Media would have criticized me heavily if I made such a statement. They would have got others to issue statements about it. The story about this statement was published only in one newspaper but electronic media gave it wide publicity. Newspapers have missed the story. I did not see even an editorial about it. What would happen to media if such a military rule comes to power?" the Prime Minister said.
"Sri Lanka is a civilized country; we have earned the respect of the world because of our Buddhist heritage. We have been able to maintain democracy in this country because of Buddhism," the Prime Minister added.
"Germans were interested in Buddhism in the 19th Century and there were several organizations which promote Buddhism in Germany. However, they were closed down by Hitler when he came to power. Those who were following Buddhism and other religions in Germany during that time were jailed. I cannot understand how dictatorship and Buddhism could coexist. Everyone should have the freedom of expression but no one has the right to call for dictatorship," he also said.
The Prime Minister said what Buddha thought was to consult, confer and disperse peacefully and to respect ideologies expressed by all people. "Buddha never thought anyone to become dictators and never endorsed killing people and forceful disappearances. Therefore he thought us to respect democracy," he said
"Government is running the country according to the teachings in Buddhism and if Buddhism faces any danger, government won't hesitate to take action against such a move," he stressed.
Mr. Wickremesinghe also revealed that the government is looking towards amending 'Privena Education Bill'. He said advice of most Venerable Maha Nayaka Theras will be sought for this purpose. Mr. Wickremesinghe said monks should be trained in languages so that they can go all over the world and preach Buddhism.
Maha Nayaka of Kalyana Samagri Dharma Maha Sanga Sabha Venerable Ittepane Dhammalankara Thera who also participated in the event, endorsed the government's decision to amend the Priven Education Bill'. "Prime minister sought my advise on amending the Privena Education Bill' and I think it is essential," the Thera said. (Yohan Perera and Krishan Jeewaka Jayaruk)