---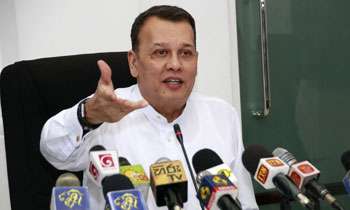 The cabinet has decided to appoint a high level 'Salaries and Anomalies Committee' (SAC) to review salaries and remove salary anomalies of the entire public sector with the aim of giving a considerable pay hike to all government employees from budget 2019, a senior cabinet Minister said today.
Ports and Shipping Minister Mahinda Samarasinghe told the media at the weekly SLFP news briefing at the party office that the 'SAC' will be appointed after the cabinet approved it and decided the composition of it next Tuesday.
"The decision to appoint an ad-hoc committee to review and remove salaries of public servants was taken on Tuesday after Finance and Media Minister Mangala Samaraweera pointed out that increasing of salaries of employees of Sri Lanka Railways alone was unfair and it would create further anomalies and disappointment among employees of other services. Minister Samaraweera also told the cabinet that salary anomalies were found in 25 other services in the public sector and he was ready to release funds from budget proposals 2019 after a proper and across board salary structure was established for all public employees," Minister Samarasinghe said.
Commenting on certain media reports that President Maithripala Sirisena rejected a proposal made by Prime Minister Ranil Wickremesinghe to the cabinet to pay an extra allowance to monitoring MPs -the back benchers of the government - who check the progress of rural development projects carried out under the government's Gamperaliya' project that has allocated Rs. 200 million to all Divisional Secretariats.
Monitoring MPs are necessary as Divisional Secretaries cannot monitor rural development projects single-handedly with their other responsibilities, he noted.
Proposal to pay an allowance to monitoring MPs was a recommendation contained in a report submitted to the cabinet. It had been prepared by Treasury Secretary, Dr R.H.S. Samaratunga, Lands Ministry Secretary W.H. Karunaratne and Secretary to Prime Minister Saman Ekanayaka. Prime Minister Wickremesinghe did not submit a cabinet paper on this matter as reported by the media," Minister Samarasinghe stressed.
However, the first salvo against the proposal in the cabinet was fired by Agriculture Minister Mahinda Amaraweera who noted that the time was not right to give an allowance to monitoring MPs while the country and people in dire strait. President Sirisena accepting the views of Minister Amaraweera said the proposal could be taken up later with amendments.
Responding to a journalist on the ongoing trade union action by railway employees, Minister Samarasinghe said Minister Samaraweera had convened a meeting last afternoon and expressed hopes that the strike would call off by last afternoon.
Commenting on assault by commuters on trade union representatives at Fort Railway station, Minister Samarasinghe said it was how commuters vented their anger and disappointment after learning that they had no train to return home after day's hard work.
Minister Samarasinghe said the SLFP annual convention was scheduled to be held in early September on a grand scale and the party's reorganization from the grassroots level to the top will be fully in place by then to ensure party's victory at the forthcoming PC, Presidential and Parliamentary polls. (Sandun A Jayasekera)
Video by Buddhi