---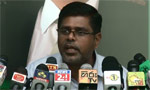 UNP Colombo District MP Mijibur Rahaman told a media briefing that the protest had confirmed that the people in the Northern are being given equal rights.

"The Northern people did not have the right to protests in the past but today they have been given that right. This is why the Northern Province Chief Minister had taken to the streets without fear" he said.
Further, he said there are no more abductions and killings in the North now.

Besides, he said one should not be disturbed by the demands made by Mr. Wigeswaran as these will not be met at any time. "Demands such as Tamil homeland is something which will never happen" he said.

"One wonders whether Mr. Wigneswaran is trying to be a successor of Prabahakaran," he added.

He said both Wigneswaran and the Joint Opposition are at two ends as one wants a part of the country while the other group is shouting about saying the country is going to be divided.
Video by RM