---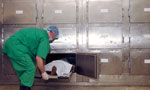 The Colombo National Hospital (CNH) had decided to stop accepting unidentified bodies to the mortuary following the Hospital's morgue becoming full with unidentified and unclaimed human bodies, Deputy Director of the CNH Dr. Anil Jasinghe said.
He said that he had informed the Western Province Senior DIG of Police regarding the decision.
Dr. Jasinghe, speaking to the Daily Mirror said dozens of unclaimed bodies were kept in mortuary freezers of the hospital for more than seven months, because the Police stations that had stored the bodies until they were claimed by families had not yet completed their examinations.
He said with the time of the decomposed bodies are kept in the mortuary, it has left the atmosphere of the hospital with a stench.
"The capacity of the mortuary is 40 bodies at a time. Now the majority of the bodies are those that were brought by the Police after no one had laid claim. They are kept here for seven and eight months without any further action. Even though we have informed the Police stations to come and collect the bodies, none of them have responded," he said.
He said the mortuary cooler was in a need of a repair since it had deteriorated and dilapidated after keeping the bodies for a long period of time.
He said that those who stay and work at wards and surgery Operating Theaters located adjourning to the CNH mortuary had complained about the unbearable smell comes out of the mortuary.
"We are unable to store the dead bodies of the patients, who die at the CNH because the mortuary is full," Dr. Jasinghe added. (Piyumi Fonseka)