---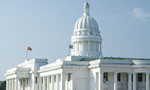 A part of the Colombo Municipality building in Town Hall is to be converted into a museum, archiving vital documents and other valued equipment used during the inception of the council.
The museum, still in its planning phase, is expected to be set up after a number of public service departments are shifted to the new building which is under construction.
The new administrative block, estimated at Rs. 860 million, will be declared open in July,sources said.
Speaking to the Daily Mirror previously, officials said the offices and departments were temporarily shifted and a number of makeshift buildings were demolished to make way for the new building.
The design for the new building was selected through an architecture competition.
Colombo Mayor A. J. M. Muzammil previously stated that approval for constructing the building had been dragging on for two years.
"We have been striving to attend to this since 2013. We don't have enough space here. Most of our offices are crammed in small spaces, and the number of residents in Colombo had increased over the years. We have 6,000- 7,000 people working here. We need more space and more facilities such as conference halls and auditoriums," he said. (Piyumi Fonseka)