---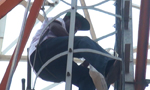 A 49-year-old Railways Department employee climbed up a signal post at the Maradana Railway Station today demanding the Department to annul his transfer to Pothuhera from the Slave Island Railway Station.

The man, a resident of Kelaniya, claimed his quarters at the Slave Island railway station had been taken away by the Department and then he was transferred to Pothuhera.

He said his children were schooling in Colombo and therefore, the transfer had caused great inconvenience to his family.
Video by Sanjeewa