---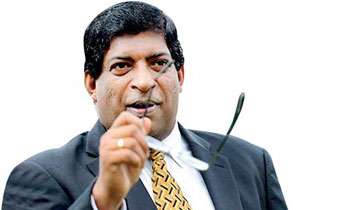 MP Ravi Karunanayake yesterday found fault with the supervision unit of the Central Bank for its alleged failure to probe on lending of Rs.4 bn by the People's Bank to a Minister.
MP Karunanayake who made this allegation in Parliament last afternoon said the supervision unit of the CBSL should be questioned on its failure to probe into the lending of Rs. 4 bn to a minister and lending further Rs. 10 bn to one Jehan Amaratunga. Former Lankaputhra Bank Chairman Lasantha Gunawardene was sacked for approving few loans which was worth Rs. 100,000 each but one needs to find out as to how the Peoples Bank had lend Rs. 4 bn to a minister and lending of Rs. 10 bn to Jehan Amaratunga?" Karunanayake queried.
MP Karuanayake then took the officials of finance ministry to task by alleging that some of them are misleading Minister of Finance Mangala Samaraweera. He said these officers are trying to create a rift between the President and the Prime Minister.
"These officials in the Ministry of Finance were the ones who led the country to a negative economic growth in 2001. They were henchmen of former President Chandrika Bandaranaike Kumaratunga," he said.
He said further that, what is needed today is to create an environment where VAT could be reduced to 10% or 9%. (Yohan Perera and Ajith Siriwardana)