---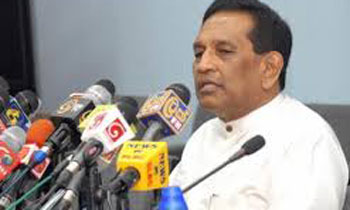 It was a blunder by former president and then finance minister Mahinda Rajapaksa that led to the ongoing controversy in the dates and the issuance of the gazette notification connected to the bond issue, Cabinet Spokesman and Minister Rajitha Senaratne said today.
He told the weekly Cabinet news briefing that until 2012, the finance ministers had signed all the gazette notices on the issuance of Treasury Bonds but from 2013 onward this system had not been carried out.
"What the government has done from 2013 was to issue a single gazette notice on the issuance of bonds and the total number of funds raised through them by violating the Act that governs the bond issue. The Central Bank officials have also done a mistake by failing to change the name of the finance minister who signed the relevant gazette notices after January 8, 2015 in the wake of the change of government and the finance minister. That is how former president Mahinda Rajapaksa's name entered the gazette notice issued after the regime change," the minister said.
"In one instance a former governor had refused to sign on the relevant document because the gazette notice had the approval of former finance minister Rajapaksa. In November 2016, officials had sent the gazette notice bearing the name of former finance Minister to the government printer."
He said the truth about the controversy would be revealed after the Commission of Inquiry concludes its investigation into the CB bond scam. (Sandun A Jayasekera)